"How Do I Prevent High Blood Sugars Working From Home?"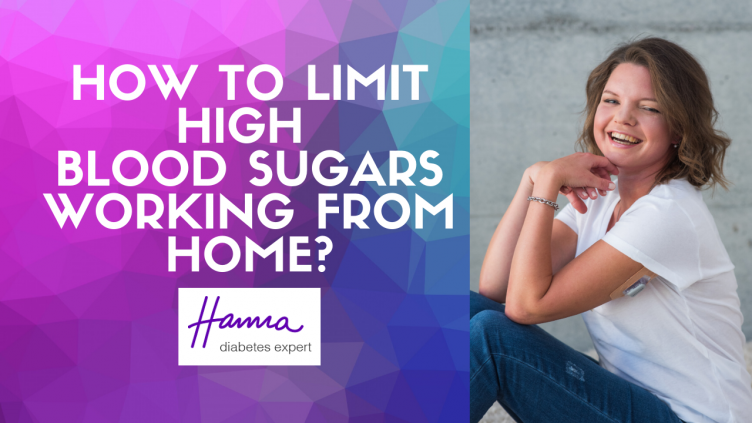 Today's question is from Taylor, and she asks: "how to prevent high blood sugars while working from home? And not only by increasing insulin?"
Tricky, tricky indeed! And welcome back to another episode of Type 1 Thursday!
Essentially, what's at the root of this question is how to improve your insulin sensitivity. And luckily, there are many lifestyle choices you can make to improve exactly that (even without necessarily just upping your insulin). And a lot of it comes down to prioritizing yourself.
As a note insulin requirements, however, is that you need the insulin that you need. Period. Whatever the situation, changes in routine, stress etc that makes your blood sugars run higher than normal, your body needs more insulin. I know way too well how hard this can be to accept, I've been there. Many times! But in order for your body to run optimally, it needs varying amounts of insulin at varying times. Try to meet this need with compassion and curiosity (and the necessary insulin, of course)!
👉🏼 What are your best tips to increase insulin sensitivity? Let's chat! 👈🏼
Lifestyle choices that help insulin sensitivity include, but are not limited to, the following:
🌟 Stress management (try meditation, yoga, EFT, essential oils, bath…)
🌟 Movement (focus on body weight moves!)
🌟 Hydration (lots of clean water can help insulin sensitivity)
🌟 Sleep (both quality and quantity!)
🌟 Healthy and blood sugar friendly nutrition (low carb)
🌟 Any supplements? (Magnesium, Omega 3 & Vitamin D is a rule of thumb)
🌟 Find a routine that fits YOU
The only purpose of this website is to educate and to inform. It is no substitute for professional care by a doctor or other qualified medical professional. This website is provided on the understanding that it does not constitute medical or other professional advice or services. Instead, we encourage you to discuss your options with a health care provider who specializes in treating Type 1 Diabetes.
https://hannaboethius.com/wp-content/uploads/2020/06/46HighWorkFromHome.png
720
1280
Hanna Boëthius
/wp-content/uploads/2016/04/HannaDiabetesExpertLogo@2x.png
Hanna Boëthius
2020-06-18 21:00:00
2020-06-19 13:41:06
"How Do I Prevent High Blood Sugars Working From Home?"