Type 1 Thursday – Medication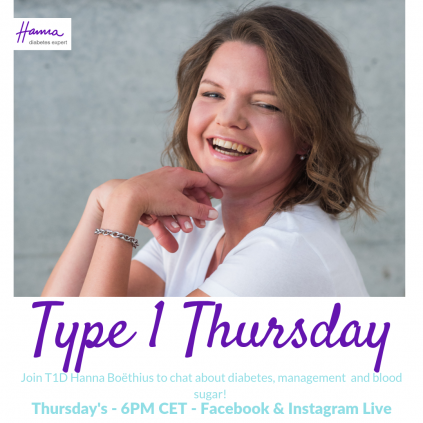 Are you taking the right medication, or medications, to manage your diabetes?
We often just "take what we're prescribed" in terms of medications. But is this always the best strategy? Is there anything you can do as a patient to influence your medication?
In this week's Type 1 Thursday, this is exactly what I'm talking about, how we as patients can get more of an insight and clue into what we're actually given, and should be taking.
Are you taking the medication you need to manage your diabetes as well as you can? Is there anything you should perhaps check with your health care professional? Let us know in a comment below!
Transcription
If you prefer to read this information, please find a text version below:
I can't wait to discuss today's very important, but this may be my shortest Thursday ever. The topic today is medication and although this is a super important thing when managing your diabetes, I am unfortunately not a medical professional. Ergo I am not allowed to give you any advice on this. (This is why this might be my shortest type on Thursday, ever.) But what I will give you are some general tips and tricks of what you can do and what you should look out for and when it comes to medication and your diabetes management, whether this is Type 1 or Type 2, it doesn't really matter. Most of us need to, unfortunately, be on medication anyway, Type 1's, of course, forever and ever until the day we die, we need to be on insulin, at least, if not other medications. Type 2's can get away with not being medicated, in some cases. But in case you are, then this could be something for you as well.
The first thing to really make sure that you have is a great cooperation with your healthcare professional, because they, in comparison to me, can give you advice on medication, and medical issues in your management. I can only give you results, tell you things that I've done and that has worked for myself and that I know from other people's experience, nothing else (glad we got that covered!) With your healthcare professional, you need to find out whether or not your medications are actually what you need. In many cases that I know of, are actually not given the correct medication, which they find out in hindsight. This is where you really have to speak up as a patient and tell your health care provider, whether that's an endocrinologist, or CDE, or nurse or nurse practitioner – whatever you prefer to go to. You have to have an open conversation with them in terms of how you feel, how it's affecting you, how it's affecting your lifestyle, your energy and what your blood glucose values are, if you live with diabetes. This can both relate to the amount of a medicine that you're already taking, or a type of medication that you're taking. Do have someone that you can really trust on your team so that you can get the help that you need in terms of medication.
This medication, as I touched upon a little bit before, needs to fit into your lifestyle, as well. If it doesn't fit you to feel sluggish, not energetic slow and just generally crappy, then definitely speak up, do something about it! There's always, always, always something that you can do to feel better, as I usually say. And there's most often another medication that you can try instead. Make sure that you get what is right for you for your lifestyle, for your body type, for everything that can have a an influence.
Let's go more into insulin. Have you been given the correct types of insulin, for example? There are many types of insulin, of different efficacies, and how long they last in the body. How long insulin works in your body is very individual. For me, for example, my short acting insulin, that I'm on all the time through my insulin pump, last quite short in my body, it's only two hours. That being said, the same insulin can last a lot longer in someone else's body, even up to four or five hours. That's something that you have to find out. Do you have the right type of long acting insulin, for example, for your life, for your diabetes, for the way that you want to feel? There are many different types of long acting insulin, and they have different aspects and attributions to them. Check out if you may be need to change yours or try another one for a while. In most cases you can try if you want and then go back to your normal routine if it doesn't work out for you. I think, as patients, it's very important that we have that choice. There are also different types of short acting insulins, rapid acting ones, which you need to find out which one works the best for you. We also have, for example, regular insulin, which covers, for example, protein very well. It can be a great tool to use if you are willing to try it. It doesn't act like the other insulins, so don't expect it. But it can be very helpful in certain cases, especially with a more protein rich way of eating.
When was the last time you did some basal testing? When was the last time you did a proper basal test to check your basal insulin? Whether that comes from a pump, or long acting insulin is accurately dosed for you, your life, and your diabetes. For example, someone maybe more insulin sensitive at times of the day or more insulin resistant at other points of the day. We have to make sure that the basal insulin is the correct amount for you. This is best done with through fasting and you check your blood sugar every hour throughout a 24 hour time period, this can be split up in different days, as well. Anyway, I'll get to that in a different chapter in a couple of weeks time. Basal testing is very important to figure out if you're doing the right thing with the insulin.
Another thing is to pre bolus. Do you need to pre bolus for your meals? Maybe check it out, if you feel comfortable with it, you can try around a little bit with pre bolusing before meals, and see if you get better blood sugar results through that.
Other, not directly diabetes related medications, that you may or may not be prescribed. Again, you have to work with your healthcare provider and see what can be maybe improved, maybe added, maybe taken away. Being diabetic, one of the milder complications can be high blood pressure. Maybe you are on blood pressure medication already, maybe you need to be on one? Maybe you need to be an ACE inhibitor, which has been shown to sometimes protect the kidneys from damage, for example. And it's a statin really necessary in your specific case? Discuss with your doctor, and bring papers, bring your research along and they usually try to accommodate, or, rather, should try to accommodate you. But it doesn't mean that everyone does, of course. A medication like Metformin, for example, maybe it could be beneficial for you? Maybe you don't need it anymore?
Again, you have to have an open dialogue with your healthcare provider. That's my main point when it comes to medications. I can give you ideas of things to think of and bring forward to your doctor, but I cannot give you advice on exactly how to do it.
Are you taking the medication you need to manage your diabetes as well as you can? Is there anything you should perhaps check with your health care professional? Let us know in a comment below!
Ps. Do you want to learn from amazing medical professionals at Europe's healthiest event? Join us in Mallorca, Spain in November at The Low Carb Universe 2019!
https://hannaboethius.com/wp-content/uploads/2019/09/HDE-T1T.png
1080
1080
Hanna Boëthius
/wp-content/uploads/2016/04/HannaDiabetesExpertLogo@2x.png
Hanna Boëthius
2019-10-10 21:00:21
2019-10-18 16:26:55
Type 1 Thursday – Medication