Type 1 Thursday – Type 1 vs Type 2 Diabetes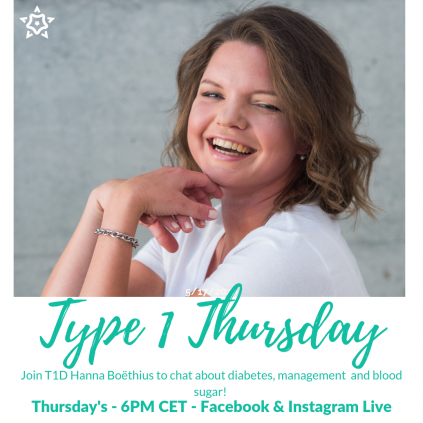 It's Thursday – time for another Type 1 Thursday! 
Today's topic is Type 1 vs Type 2 Diabetes. What are the differences? What are the similarities (if any)? And what about management and treatment, what are differences and similarities there?
What are your take aways from this video? Share in a comment!
Transcription
If you prefer to read, here it is:
For today's topic, I wanted to explain and go through the differences between the two main types of diabetes. So that is, Type 1 Diabetes, as I have, and also Type 2 Diabetes that is the more common version. There are also many other versions of diabetes together with it.
I wanted to draw the outline of the sort of differences between these two, and perhaps if there are any similarities. And what about management? How does that work between the two different types?
So basically, Type 1 Diabetes, as you may or may not know, is an autoimmune disease. That means that my beautiful immune system decided that those insulin producing cells looked a little bit dodgy when I was two years old, and kick them out of commission, which is not great because that means that I am all other type 1's will have to inject insulin for the rest of our lives no matter what we do, no matter whether we go low carb and no matter if we go carnivore – we will always have to inject some insulin. Perhaps not as much as when on the standard American or Western diet, but still a bit so that we keep our engines running, as insulin is the master hormone. And it's very much needed. So if you don't produce any, you have to add some.
It is, as I already said, it's the pancreas that get or a part of the pancreas that gets kicked out. That means that I produce no insulin, but other Type 1's may produce some, but it is nearly not enough insulin. This can be hereditary, but Type 1 doesn't have to be hereditary. I, myself, am an example of that. I have no history of Type 1 Diabetes in my family, I am the lucky chosen one. How great is that?
Type 1's are about 5% only of all diabetes cases. Considering there are over 420 million diabetics in the world, that means that we are very small minority. And I'm not sad about this, because I don't wish this on anyone. It does explain that we have to do a little bit more advocacy for our type of diabetes because we are not represented as much as Type 2's.
The onset of Type 1 Diabetes can be very sudden, and it's usually discovered within weeks. If it's if it's not LADA or other side types of Type 1, you will be very, very sick very suddenly. Symptoms include frequent urination and thirst, incredible unquenchable thirst, falling asleep everywhere, because your blood sugar is skyrocketed high. There are few warnings to look out for, that can also be mistaken for the common flu. Don't wait in case you have this suspicion, go and check it out, if it happens to a family member, for example.
There's no cure for Type 1 Diabetes. We do have better management possibilities than we've had in the past 34 years that I've been living with the condition, but there is to date, no cure, and I'm not positive about one happening anytime soon. I secretly, or not so secret, I do wish for it every single day of my life, even if it is easier to manage with lifestyle choices, it's not as easy as maybe it would have been without having to act as your own pancreas.
Type 2 Diabetes, what is that? That is basically a severe insulin resistance. So your body is still producing insulin. In fact, it's actually producing tons and tons and oodles and oodles of insulin. But the problem is that your cells don't recognize the insulin that you're producing, making you insulin resistant, making you not be able to take up the sugar from the blood stream, making it hang around in the blood stream. That is why you have higher blood sugar in Type 2 as well. Basically, the body does not recognize its own insulin. And this can be very tricky, but there are a lot of things that you can do to improve insulin resistance even as a Type 1, but definitely as a Type 2.
Type 2 can be lifestyle related, or it can also be hereditary. But the lifestyle part is a majority of the cases.
Diabetes cases that are Type 2 in comparison to Type 1 are basically the remaining 95% (and 5% are Type 1.) This can take years to develop, although the symptoms are just the same as in Type 1, just maybe not as severe from the beginning. You might notice a need for more water over a while or you might notice that you're more tired than usual. But that can also be attributed to stress and all these kind of things that are lifestyle related, as well. The lucky thing with Type 2 is that many cases actually can be reversed with the help of lifestyle measures, like changing your diet, movement, taking supplements, all these things that you can do with your lifestyle is to alleviate and also perhaps reverse Type 2. Even if your Type 2 has so called been turned into Type 1, which it can't, Type 2 can only become insulin dependent, but it can never be Type 1, because it's not an autoimmune attack on your insulin producing cells.
What are the commonalities of these two types of diabetes?
Both of them lead to the same complications. These includes retinopathy, potentially blindness, that leads to nerve damage, potentially neuropathy, and/or amputations. And it also can lead to kidney problems and nephropathy. It can lead to cardiovascular disease, it can lead to stroke… All of these things that aren't so nice with diabetes can actually be attributed to the high blood sugars or the constant constant fluctuations in blood sugar and not the diabetes itself. If you manage to keep your diabetes at bay and keep your blood sugars at a normal, healthy level, then the risk of complications, DKA and all these things, it's very much smaller than if you don't and you go between minimum and maximum at all times.
A second similarity is that you have the same goals of achieving normal, healthy, stable blood sugars. Make those continuous blood glucose monitor things look like lines, not roller coasters, but lines. That goes for any diabetic, independent of type.
Thirdly, the want to reduce insulin. Before before people get angry with me here, let me explain why.
In Type 1, if you keep adding lots and lots of insulin the whole time, the risk is that you're going to be a double diabetic. That means that you, in addition to your Type 1 Diabetes, develop severe insulin resistance so that you have both types of diabetes. For me personally, and I know very many with me, this is something that we definitely want to avoid. You can't think of insulin as a free for all thing that can make you eat anything that you want. For those of you who works for, great! For those of us who maybe it doesn't work for, and we need more insulin than necessary, it's not maybe the best idea. The risk is there, and I was there myself a couple years ago, I am very sure that I had double diabetes, because I was on so much more insulin than I am on now. But it wasn't confirmed. So I can't say with security.
Why you want to reduce insulin as a Type 2? If there isn't that much insulin to not react to for the cells, then maybe they start listening a little bit. It's like a small toddler, when you scream at them, and try to reinforce your power and try to make them understand… Do they ever listen? No. If you, on the other hand, just keep calm and really give it instructions with a point and and with direction, there is at least a chance that they might listen. It's similar with Type 2 and insulin, in my opinion.
How can you reduce the amount of insulin needed or used? How can you get stable normal blood sugars? And how can you, as a Type 1 diabetic, not get double diabetes? Lifestyle measurements. As a Type 1, as I said, you will always have to take some insulin, but it will it can be reduced. The power of nutrition in diabetes is just so immense. You can eat a sugar free, low carb, real food kind of diet (and I hate the word diet but there's no other way of explaining it). If you eat real food, if you if you eat sugar free and if you low carb, chances are that you will be able to improve your health a lot.
This doesn't just go for people with diabetes – this goes for everyone. Whether you have diabetes or not, if you're healthy, if you have no health issues at all, you are always going to be better of health wise, if you eat a sugar free, low carb, nutrient dense, real food diet. That's just it. That and of course, movement, exercise, make sure that you feel joy in your life, make sure that you take supplements if you need them. Make sure to hydrate, make sure that you have a routine that works for you. Make sure that you alleviate your stress. All of these lifestyle measurements are good for both diabetics and non diabetics.
If you have any takeaways or any ideas or any comments, let me know below and I will be happy to chat with you there.
https://hannaboethius.com/wp-content/uploads/2019/03/T1Thursday.png
1080
1080
Hanna Boëthius
/wp-content/uploads/2016/04/HannaDiabetesExpertLogo@2x.png
Hanna Boëthius
2019-05-17 09:00:01
2019-05-20 14:04:30
Type 1 Thursday – Type 1 vs Type 2 Diabetes