Type 1 Thursday – Why Real Food?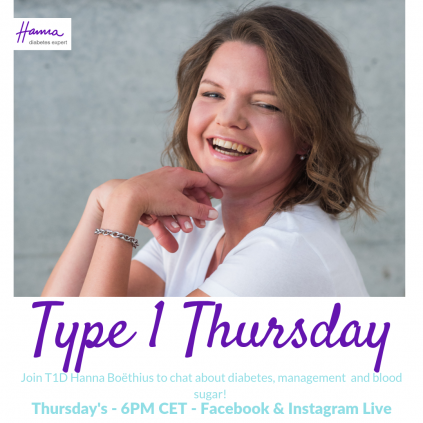 Real food is actual food, food that comes from nature and is not refined, made in a factory or tampered with by humans. And no matter of what way you choose to eat, be it keto, paleo, vegan or otherwise, we can all agree that real food is what is the best for our bodies, health and blood sugars.
But why is eating real food so important? And especially so if you live with diabetes? In this week's episode, I outline a few quick points. Watch the video, or read the transcription below, and let me know your thoughts!
Ps. If you do like the concept of eating real foods, why don't you join me and an amazing group of people at The Low Carb Universe 2019 in Mallorca, Spain in November? Incredible international health experts, amazing views, movement, joy AND 100% real food! You can book your ticket here!
Do you eat mostly real foods?
Transcription
If you prefer to read to learn, below is a text version of the video about real food above. You can also read why low carb is a great option for Type 1 Diabetics here!
Why Real Food?
Today I have quite an exciting topic, if you ask me, because my background is within nutrition. My topic for you today is the importance of eating real food.
I am so happy to hear your comments and ideas and thoughts about this topic or any other topic, actually, I'm easy that way! Jot them down in a comment below and I will be happy to chat with you there anyway, about real food.
If you ask me, that is the only topic where we can actually agree on, no matter what kind of diet we choose to follow or eat. I don't really like the word diet, but I choose to use it anyway, as it's normally the one used. The thing is, whether you are keto, paleo or vegan, or, well, maybe not the Standard Western Diet, actually, because the importance of real food may not be so, so big there. In any other diet that you may or may not be following, I think real food is the one thing that we can agree upon, that it is very good for us.
What I define as real foods is foods that don't have a label. Real foods actually comes from nature, which is quite rare, if you think about the standard Western diet. It is foods like meat, poultry, eggs, fish, seafood, vegetables, and all these things that actually come from nature and from the earth and not through a factory, or from a factory or has been tampered with too much with by human beings. They're just as clean and natural and real as possible. That's my definition of real food, so that we're all on the same page throughout this discussion.
The main point of this is that real food has no additives. What additives often do, is that they mess with your blood sugar. For example, maltitol is a classic example of this! It is a sugar substitute that still affects your blood sugar. Don't be fooled and eat that, although it's supposed to be great and "diabetic friendly", can be labelled whatever you want to be labelled with whatever health claim. They still include things that are really not good for your blood sugar and really not good for your health. In effect, you're not doing yourself any favours by buying these "health foods". No additives, so that they can't mess with your blood sugar, in this case, if you are diabetic, or live with a blood sugar problem.
If you are going to venture into that kind of a sphere with pre-made foods, I have as a rule of thumb for you. The food item can include five ingredients, and those five ingredients all have to be recognisable to me, I need to know what they are, without googling, because that's cheating. Then, if I approve all of those ingredients, then yes, absolutely, I will buy it and consume it and enjoy it. But if that is not the case, it will most likely go back on the shelf! "I see it, I love it, I want it, I checked the carb count, put it back", is pretty much like going to the grocery store with me. My poor husband, I mean, seriously… Anyway, 5 ingredients that are recognisable otherwise, to me, it is not worth the gamble of a possible really high blood sugar or a possible low blood sugar, because I've overdosed insulin. It's just not worth the hassle for me.
What are the top my top three "watch out" ingredients for additives in food?
If you do live in the States, or a similar kind of an environment, high fructose corn syrup. Just stay away, that can really mess up so many metabolic markers within you, so much of your metabolic health can be ruined, because of the consumption of high fructose corn syrup. It's just so highly refined and so highly tampered with that it's not really worth it to consume in my opinion. It's no longer food, it is just factory made.
Number two, trans fats, man made oils, trans fats, are really not good for you. They add a lot of unnecessary strain on your body and your metabolism (that you can just actually fix with eating real food). Adding real fat such as butter, avocado, olive oil, things that are actually not man made, but is made by nature, is a lot better for you than highly refined and processed fats.
Number three, and this can be a tricky one, I do admit it. So bear with me before you slam down the lid of your laptop or turn off your phone, but it's artificial sweeteners. And with that I really mean the artificial sweeteners, the ones that have been made in a factory. Maybe stevia is fine for you, if you enjoy the the flavour of it. And monkfruit can also be fine. Erythritol to a certain extent, absolutely. But things like aspartame and things that we don't really know what it's doing with our bodies yet. It's definitely not natural in any way or form, and that I would be careful with. I remember growing up, this was a huge thing, as long as there were artificial sweeteners, then, hey, this product is a go! I was raised in the 80s and 90s, when it was still a little bit more controlled what people with diabetes should be eating. I had to eat a lot of terribly sweetened things. It's been shown in studies since that for example, fructose, which we thought back then was the holy grail for diabetics, can actually clog up your liver, so that it can't do its job properly. Then your whole metabolism might be damaged.
There's a lot to be said about this stuff, of course! These three things impact your gut health, they can have an impact on anxiety levels, they can, as I said, clog up your liver, so that can do its job properly. And other things like your skin and other things that are really important for us to work properly. These additives can make an impact on our health, and that's not very good, is it?
I do want to sort of give a special warning, I did touch upon it a little bit at the beginning of this. For example, "keto foods" some of them or "vegan food" or whatever it's labelled, heart healthy, don't even touch this stuff is not healthy for you at all. Don't trust the labelling on the box! Look at the ingredients, does it have five ingredients? Do you recognise them? Buy it, if you think you're going to enjoy it, if it doesn't, maybe you should rather leave it alone? "Foods", such as salad sauces, sauces, spice mixes, soups, ready made things that you don't think will have an impact can actually contain a bucket load of sugar and will impact your blood sugar. Stay with the real food is my opinion! It's better for us, it's healthier for us, and we're going to feel a lot better.
If you're just starting out from, for example, a standard Western diet, to going to more into the real food way of eating, then I really suggest you adopt the 80/20 rule, so that 80% of the time, on work days, you eat real food, and on the weekends, you can still have a bit of what you still think is fun.
I would love to hear from you. Do you eat mostly real foods? Let's talk in the comments below and I can't wait to see you next time.
https://hannaboethius.com/wp-content/uploads/2019/09/HDE-T1T.png
1080
1080
Hanna Boëthius
/wp-content/uploads/2016/04/HannaDiabetesExpertLogo@2x.png
Hanna Boëthius
2019-09-13 16:47:21
2019-09-13 16:47:23
Type 1 Thursday – Why Real Food?