Paleo Restaurant, What's on the Menu?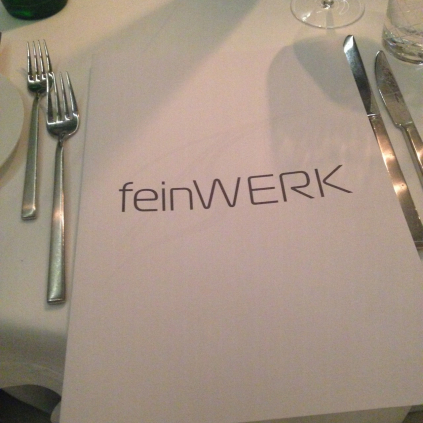 The most difficult part when you want to eat healthily are restaurants.
But what if there is an option to keep eating healthy whilst eating at a restaurant?
About two weeks ago, my husband and I had something a little special to celebrate.
And although we're not dogs, we decided to treat ourselves to some really good food. I had heard about this Paleo restaurant close to Zürich, and as we had an occasion to celebrate, we went there. And, only for you, I took pictures of every single dish we had. And there were many…
The restaurant is stylish and modern, despite its ancestral menu. And the service was great, couldn't have asked for better and more attentive service staff.
Anyway, as we're not here to lollygag, we're here to party, on to the FOOD:
Elegant and stylish menu, filled with good, healthy courses. At this restaurant, you can freely choose how many of their seasonal courses you want, 3, 4 or all 5 courses that are on the menu. We thought we should "go big or go home", so we took the 5 course option. All the courses follow the idea of Paleo eating, wild caught fish, wild meat, seasonal vegetables and all of it, of course, organic. No gluten, dairy or processed foods fit in the Paleo framework either, which is GREAT for someone just like me. 🙂
At "normal" restaurants you usually get a breadbasket before your meal. So also at the Paleo restaurant, although the bread here was made from things like almond flour and walnuts, spiced with saffron and herbs. Delicious!
A small greeting from the kitchen, with a fried quail egg on root vegetable chips.
The first starter was lake trout that had been graved with cedar wood and crayfish that had been slightly sweetened with honey on top of beetroot. Crayfish and beetroot was a new and fantastic combination for me!
The second starter was an artichoke and herb soup with a meatball of rabbit. The tastes combined amazingly well, and just look at the decoration!
Onto the main courses: first up was dove from the forest with wild asparagus and beechnut. A lot of new flavours and tastes were presented to me during this dinner, and this is one of them – I had never had dove before. The combination of flavours were, again, knocked out of the park.
With the second main dish, we got locally caught fallow deer with roots, nuts and mushrooms. As you can see, the main focus is on the meat and not the roots, bringing the carbohydrate count down, making it easier for diabetics like myself to calculate dosages.
This feast was finished off with a yummy, rich chocolate tart with berries from the forest and herb jus. For a chocolate lover like myself, this dark chocolate tart was the perfect end to a beyond amazing dinner.
The taste combinations that were on these plates were definitely out of this world! For me, it was so nice not to have to change the ingredients in any of the courses, as well.
And, more importantly, had we had this many courses in any other restaurants, we would have felt too full to get home. Sure, we were full and very satisfied after this meal too, but it was really not as bad as perhaps expected. It should probably be noted that eating a fully packed menu like this is nothing my husband and I do often.
The whole experience was a true delight, and I can definitely recommend Restaurant Feinwerk if you're in or ever around Zürich!
How is it where you live? Do you have truly healthy restaurants, and not just those that try to disguise bread and sugar as healthy? Share your recommendation in the comments below! 
(NOTE: I'm by no means affiliated with Restaurant Feinwerk, and we paid for the dinner ourselves. These opinions are completely my own.)
https://hannaboethius.com/wp-content/uploads/2014/10/image1-e1414574233861-1.jpeg
1280
1280
Hanna Boëthius
/wp-content/uploads/2016/04/HannaDiabetesExpertLogo@2x.png
Hanna Boëthius
2014-10-29 19:50:39
2014-10-29 19:50:39
Paleo Restaurant, What's on the Menu?