Saffron Coconut Macaroons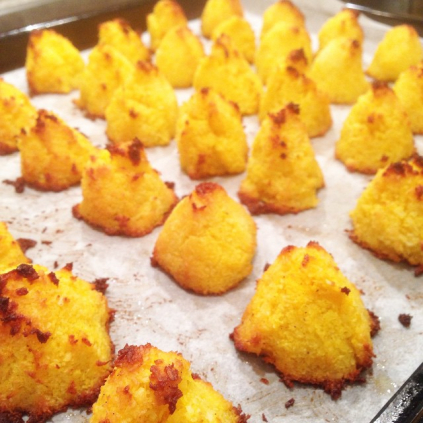 I know just how busy you are today.
So today's post will be very short and to the point.
A few people have asked me about the recipe for the Saffron Coconut Macaroons that I shared in my Diabetes Advent Calendar.
And because I'm feeling the festive spirits (no, I don't mean the rum), I want to share it with you here on the blog today!
(If you don't like saffron (gasp!), they're absolutely delicious if you leave it out, too)
Saffron Coconut Macaroons
Makes about 10
You'll need:
25 g butter
1 egg
1.5 dl (0.6 cups) desiccated coconut
1 tbsp. stevia or agave (or honey, if you can take it)
1 pinch vanilla powder
1 packet saffron
Do this:
Put the oven on 175 degrees.
Melt the butter with the saffron.
Whisk together the egg and sweetener of your choice.
Add all the other ingredients to the mix.
Let the mix rest for a few minutes.
Make "peaks" on a baking sheet and bake in the oven for 10-15 minutes, until the tops are golden brown.
Each peak has 4 grams of carbohydrate.
These yummy treats are gluten-, grain-, treenut-, soy- and (almost) sugar free, so they suit most people.
Let me know how yours turned out in the comments below!
ENJOY!
https://hannaboethius.com/wp-content/uploads/2014/12/saffron_coconut_macaroons-1.jpg
640
640
Hanna Boëthius
/wp-content/uploads/2016/04/HannaDiabetesExpertLogo@2x.png
Hanna Boëthius
2014-12-22 11:59:39
2014-12-22 11:59:39
Saffron Coconut Macaroons