Low Carb Cruise 2015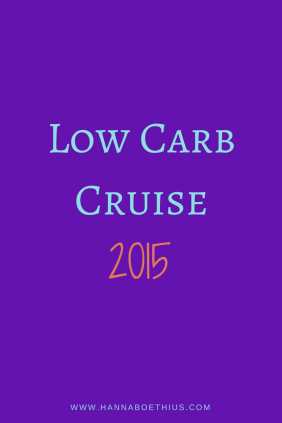 How am I supposed to summarize a wonderfully magical week full of meeting amazing people, seeing paradise islands and learning superinteresting new information? Perhaps just like that?
This years Low Carb Cruise in the Caribbean at the end of May was a complete success. We were about 200 participants, with a wonderful mix of backgrounds and reasons for being there, that set sail on the 24th May 2015.
Our ship, "Independence of the Seas" is one of the biggest cruise ships in the world, with over 4000 passengers. This made our group of low carbers pretty small, but at the same time feel closer together.
With that big of a ship, the food was definitely not low carb adapted. The sheer mix of sugar, grains and other stuff we know we donät do well with was at times overwhelming before seeing the options before my eyes. Every night was a sit down dinner in the glamourous 3 floor dining room, where you could choose freely what to have to eat from a menu that changed each night. A certain knowledge of how to navigate a menu was required, at least if you are handling food insensitivities (like most of our group are). This sometimes meant that you had to choose something else than what you really wanted from the menu, although the staff were amazing at meeting every single request of special orders that they possibly could.
Food on the ship (and mainland USA, too) is still very calorie based. "Low-fat" and "sugar-free" are still considered "words of wisdom" for most people, without a care in the world that these removed items have been replaced with chemicals and additives that I would prefer not to have in my body.
As for the Low Carb Cruise itself, we were listening to presentations by the speakers when the ship was in transit at sea. The days on the islands of Puerto Rico, St. Maarten and St. Kitts I spent with other low carbers that had chosen to go on the group excursions as well. It was wonderful to see all these places of paradise that I've previously only heard about!
The first seminar day of the Low Carb Cruise had a clear theme: diabetes. This was the whole reason for me to initially actually click "book" on the cruise, so my expectations were high to say the least. Especially with speakers such as Dr. Eric Westman, Dr. Keith Runyan, Jimmy Moore, Jackie Eberstein and Sweden's own Diet Doctor, Dr. Andreas Eenfeldt.
Both Dr. Runyan and Dr. Westman talked about how eating low carb high fat helps in the treatment of diabetes, the former focused on both Type 1 and Type 2, the latter more focused on Type 2. These presentations were, for obvious reasons, particularly interesting to me! But it can't be denied that Diabetes was mentioned in a vast majority of the other presentations as well.
Amongst other highlights from the first seminar day was Dr. Justin Marchiagiani's presentation on hormonal imbalances and the blood sugar connection, where thyroid issues were lifted forward as well. And Dana Carpender's colorful presentation about ADHD and low carb eating. And, brilliant as always, was also Dr. Eenfeldts presentation about the Food Revolution.
For the following 3 days there was socializing and excursions on the menu:
Once we had all gotten some sunshine on our noses, fresh ocean breeze in our hair and were many smiles and laughs richer, it was time to continue the seminars. By this point, the ship was already on her way back to Fort Lauderdale in Florida.
This seminar day was nothing short of amazing, either. Speakers such as Dr. Ann Childers, Jackie Eberstein, Cassie Bjork, Dr. Jay Wortman, Emily Maguire, Jimmy Moore and the founder of Ketonix, that measures the ketone level in your breath, Michel Lundell were responsible for masses of great information, laughs and well-made presentations.
Perhaps not surprisingly, Diabetes got a lot of attention here as well, although it wasn't explicitly on the agenda. The BIG focus was on Type 2, and how it often comes hand in hand with other health issues.
We were taught about the misunderstandings of a ketogenic diet, why you won't lose weight although you're eating low carb, how women's hormones relate to weight loss and how LCHF is seen in the rest of the world.
The final day of the Low Carb Cruise 2015 was featured by Dr. Michael Fox, who spoke about women's hormones, fertility and how low carb eating ties into it. As well as Dr. Jose Lozado's presentation on how certain forms of cancer can be prevented by eating low carb high fat and other lifestyle choices. After that the whole intensively awesome week was wrapped up with a great Q&A session with all the speakers (and a private cocktail party after that).
The whole experience was absolutely phenomenal! I've met so many amazingly warm and open people (see some of my heroes that I met below! (I'm still kicking myself that I didn't get a proper picture with Mr. Moore…)), made new friends, learned so much of the latest research and had such a fun week!
Even if this week definitely wasn't just fun in the sun and beach life, I've gotten to see and experience new knowledge, new places, new food and new, lovely people.
I really can't wait for next years Low Carb Cruise!
https://hannaboethius.com/wp-content/uploads/2015/06/blog_LCC2015-1.png
1200
800
Hanna Boëthius
/wp-content/uploads/2016/04/HannaDiabetesExpertLogo@2x.png
Hanna Boëthius
2015-06-10 17:54:38
2015-06-10 17:54:38
Low Carb Cruise 2015