When Diabetes is bigger than it needs to be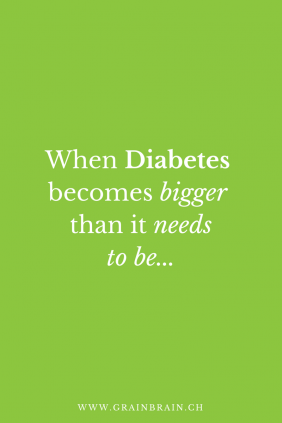 Diabetes is undoubtedly a very big part of your life. Just as it is of mine.
And you can blame a lot of stuff on it. Sometimes you have to blame more on it than you're willing to admit.
If you're anything like me, people have asked you why you don't blame MORE stuff on it to get out of sticky situations etc… I have to admit sometimes it's tempting, but I have enough things I have to blame on diabetes, and I don't really feel the need to make it any worse.
But there are certain moments when diabetes is pointed out as the bad guy, even if it (for once) has nothing, or very little, to do with what's going on.
When diabetes becomes bigger than it has to be, I sometimes find it difficult to cope. It feels a little like just because I have diabetes, I'm not allowed to have "real people feelings", but instead everything has to be related to that my pancreas doesn't work like it should. I'll show you some examples in a second.
These are all examples that has happened to me, or that I've noticed recently.
Doctors blaming everything on diabetes. Yes, they're doctors, yes, they know all of your health history, and yes, they (sometimes) see the bigger picture.
And whilst things like infections, colds, poor healing time and your thyroid doing a funky dance can very well be diabetes related, it doesn't mean everything is.
Like an injury you've gotten while being (or trying to be) sporty. Unless you had a mega hypo or hyper blood sugar when it happened, it quite probably has nothing to do with diabetes.
Or an allergic reaction. Again, unless it's gluten (which can be diabetes related), my seafood allergy probably isn't connected to my diabetes.
Yet, in both of these instances I've gotten the answer that it's "because of your diabetes". Newsflash!
Being thirsty. While excessive thirst is a good indicator of your blood sugar being high, again, it doesn't have to be the case. At all.
A "normal" person needs anything from about 1,5 liters of water and upwards per day. And this can vary greatly if you've done more exercise than regular, if you're on certain medications, if you're stressed, if you're pregnant or breastfeeding, your altitude, if it's hot outside, if you've had alcohol, if you're sick with fever or diahorrea… The list goes on! And that's ignoring any kind of diabetes, high blood sugars, and other fun stuff.
And yet, especially as a child, I was always asked if my blood sugar was high when I was thirsty. (Sorry, mom! I know you were only worried about me.)
There could have been a gazillion other reasons for my thirst. But then it was always had to be due to my blood sugar and that I had somehow misbehaved and eaten something I shouldn't have.
This lives on in me, and every time I'm super thirsty, I automatically check my blood sugar. Even if it's first thing in the morning when your body is automatically de-hydrated and needs to fill up on the water reserves.
Being tired. Yup, it's exhausting to live with diabetes 24 hours of every day, of every year. It is.
But it's also exhausting to be a human being, with everything that one needs to do, should do, and does anyway.
Every yawn, every early night and not being the last man standing at a fantastic party isn't automatically connected to me having diabetes.
Maybe I have something to do early tomorrow and need my sleep? Maybe I just love sleep? Maybe I can feel so much better if I only get a proper nights sleep on it? And maybe you do, too?
We all need, under optimal circumstances, about 7-9 hours of sleep per night. To let your body rest, to let it regenerate those broken cells, to think clearly the next morning. And for things like weight loss and hormone regulation, proper sleep is crucial.
Having a bad day. As soon as you're having a bad day, those loving people next to you automatically assume it's because something's up with your diabetes. I know, every single one of you only wants the best for me, and you're worried about my well-being. And I am grateful for that.
But "normal people" aren't Mary-Poppins-ray-of-sunshine all the time either.
It may very well be that people with diabetes have these days slightly more often than people who don't have to worry about things like asking a little computer how you're doing in that minute, and worry (more or less) about what that number means.
Everyone has days when they just want to give up, when they feel hopeless and feel like they can't take it anymore. Everyone, including those with diabetes, have those days.
And they are allowed. Those days are needed, too. If only to remind you how well you're doing on other days.
Manicurist… This is a fantastic story. And it happened to me quite recently.
One day, not too long ago, I decided to treat myself to a manicure.
For once, said manicure wouldn't be done by myself (gasp!), but by a professional. And I was really looking forward to some me-time, some pampering and switching off my head and just relax.
The manicure itself was lovely, I felt amazing after it and having chosen to do gel lack, I expected it to last at least a week.
When I woke up the following morning, I saw one of the nails had already chipped! Off of my expensive manicure (not even that is cheap in Switzerland).
I was upset and frankly a little shocked. I didn't think it would start chipping off that soon. I called the nail lady to let her know, and she told me to come back later the same day to fix it.
When I got there, we got to talking. I told her that I have diabetes, and of course her grandmas cousins friend had it too, but died. Great.
Suddenly she says "I know why it chipped off so soon on you!" Being all ears, I asked her to explain.
"It's because of your diabetes!"
I couldn't believe my ears.
I asked her if she was serious, and she told me that was definitely the reason.
Almost speechlessly I thanked her for her help and that she was so nice as to fix my problem so quickly.
This might even have been a believable reason, if it wasn't for that other times I've treated myself to gel lack manicures, they've held just fine. No chips, no complaints until about a week after. Which is normal. To me, she was just blaming her crappy job on my very-handy-for-excuses illness…
Diabetes is always a double-edged sword; on one side you have the negative stuff that is really painful, sore and keeps you in bed some days. On the other, you have things you can, should and need to do. Like having "real people feelings".
When have you experienced people blaming your diabetes for something it wasn't really part of? Tell me in the comments below!
https://hannaboethius.com/wp-content/uploads/2015/03/blog_diab_bigger-1.png
1200
800
Hanna Boëthius
/wp-content/uploads/2016/04/HannaDiabetesExpertLogo@2x.png
Hanna Boëthius
2015-03-11 21:17:30
2015-03-11 21:17:30
When Diabetes is bigger than it needs to be