Fat Facts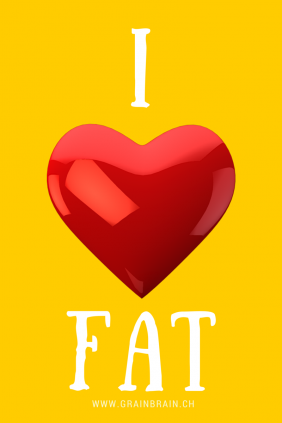 Food fact: Fat, glorious fat!
Let's set the record straight here once and for all: not all fats are bad!
Sure, the transfatty crappy vegetable oils (cottonseed, rapeseed and processed sunflower oils for example), margarine, the junk food you get at most fast food restaurants or chips/cakes/cookies/candy aren't what we're talking about today. (Which are all pretty sorry excuses for food, really.)
We're talking about the good, healthy, happy, healing fats, like salmon, coconut, avocado, eggs, olive oil, butter, nuts and seeds, for example.
Eating more fat (and less carbohydrates) has amazing benefits on your health.
When you start adding more fat to your meals, your blood pressure is likely to go back to normal.
Fat also has very minimal, if any at all, effects on blood glucose levels (yay for us diabetics!), meaning less roller coaster and more stroll in the park action.
Chances are also that eating more fat will make you lose weight (I'll explain this more later in this post).
It also keeps you full and satisfied for longer, meaning that snacking and unnecessary meals are less likely to sneak in to your eating plan.
And, as if that wasn't enough, here are 7 more reasons you need to give your body fatty acids to work with:
Fat = energy
Good fat contains more energy than carbs or protein. This is energy (calories) that the body can use and knows how to use, unlike processed carbs, for example.
Healthy cells need fat
The walls of every cell in your body (the membrane) is made out of fat. If you don't eat enough fat, you can't build healthy, properly functioning cells. And that's putting yourself in a pretty bad place; if you can't build cells, your body can't function like it should.
Think fat!
The cells I just mentioned of course also include your brain cells. But fat is needed for more than that – it's also needed to build myelin, which is insulation for the nerve endings in the brain and helps carrying messages across.
Fatty vitamins
The fat soluble vitamins A, D, E and K can't be absorbed by the intestines without fat, meaning you are depriving your body of these vital vitamins unless you eat enough fat.
Hormones are made of fat
Your body produces sex hormones with the help of fat, as well as many other hormones and hormone-like substances (like prostaglandins). Your hormones are vital to your body functioning properly, and any irregularity in hormone production can have some unpleasant or even devastating consequences.
Your skin loves fat!
Your skin is one of the first things to react if you eat too little fat – it gets dry, flaky and feels too tight. The fat we have right underneath our skin also helps to insulate us in colder weathers.
Fat protects your organs
Just as the whole body is insulated by fat, so are your organs on the inside. Especially the kidneys, heart and intestines rely on fat to keep them from harm and in their correct places (your kidneys can actually start "traveling" in your body if you don't have enough fat to keep them in place.)
There are two common misunderstandings about fat that I regularly hear:
"But isn't eating more fat gonna make you fat?"
Let's crush this myth once and for all: fat doesn't make you fat! 
Of course you can overeat fat, but it will be difficult as it's very satiating. Your body has a natural stop that prohibits you from overeating as easily as you can with, for example, carbs.
"But isn't fat free of nutrients? How do you get your vitamins?"
The richest sources of vitamins D, E and K2, and choline all come from food sources rich in fat (cod liver oil, red palm oil, grass-fed butter and egg yolks)
Fat also makes vitamins in the other food more available for the body to absorb.
So, where can you add more healthy fats in your day?
Eggs and bacon for breakfast? Avocado and walnuts added to your lunch? Fry the vegetables for dinner in coconut oil? Perhaps you can even have some glorious salmon for dinner?
Fat is healthy and desperately needed by your body, don't deprive it of this great source of everything.
Lots of lardy love!
https://hannaboethius.com/wp-content/uploads/2015/02/blog_fat-1.png
1200
800
Hanna Boëthius
/wp-content/uploads/2016/04/HannaDiabetesExpertLogo@2x.png
Hanna Boëthius
2015-02-04 17:29:25
2015-02-04 17:29:25
Fat Facts