How often do I have high/low blood sugars that need treatment? 🤔 A question from the audience!
Learn how I attempt to avoid the high and low blood glucose readings (that are, more or less, a part of life as a Type 1 Diabetic).
What about you? How often do you have highs or lows that require treatment? Let me know in a comment!
Transcription
If you prefer to read the information in the video above, please find a written version right here:
High or Low Blood Sugars?
This week, I have another question from the audience. And it's a personal one-ish. Well, I don't want to get your hopes up, it's not that bad. Actually a normal question, but it is more personal natured one. So I'm looking forward to answering it. Because this person writes:
How often do you have a real low or high blood sugar that you need to correct? Is it rare, or is it part of everyday life?
I thought this question was very, very interesting. And I guess I'm not that open, perhaps, with my blood sugar levels online, because I frankly don't think it's very interesting to share them. If you want me to, I could share more of my day to day values. (If you do, please leave me a comment so that I know because I cannot read your thoughts out there! 😃)
High and low blood sugars are of course part of living with Type 1 Diabetes and no one can deny that. The frequency of them, however, can greatly and amazingly be influenced by different lifestyle factors, for example. For me, for example, a low carb lifestyle has really helped to eliminate most highs and lows. I no longer get those extreme highs followed by extreme lows, because I simply follow the law of small numbers so I don't have that much insulin in my body. And also not that much insulin required, that I get those quick drops. Furthermore, I don't eat that much sugar and carbs so that I get the high highs. You can do a lot with lifestyle factors!
It's also a question of definition. For me is low is below 3.2-3.5 mmol/l, which is about 65 mg/dl, and my highs are already around 6.5 mmol/l or 117 mg/dl. It's really a question of definition. Do you mean those super-highs of 400 mg/dl and then down to 20 (22 mmol/l to 1.3)? Or, do you mean this sort of gradual, just on the verge kind of sugar surfing highs and lows? It differs from person to person.
Basal Testing
The number 1 thing that I would advise people in this situation is to check your basal settings. Whether you have your long acting insulin or an insulin pump with a basal setting, make sure that those dosages are correct. That can save you a lot of trouble! This is something that I do on myself, as well, I make sure that my basal settings are correct (or as correct as they can be because life happens and things go up the wall sometimes) If you want me to do a video about how to basal test properly, then also let me know in a comment!
If your basal dose is correctly set, you also need less corrections to get the results you need. If you're too low or borderline too low, for example, and your basal isn't too high so your blood sugar won't keep going down much further. With the right settings for you, you only need very little carbs to get you back up into a healthy safe range. Same with highs, if you are borderline high, you don't need that much insulin to get yourself into a nice, safe healthy range again, because your basal insulin is correctly set.
My Trick
I correct before there is a high or a low. Of course when I can, things like sleep, illness, travel, stress and things like this too much work (guilty as charged!) can of course make this a little bit trickier and hinder me from keeping that level of control. But whenever I can, I do react before it the low blood sugar or the high one is a fact.
Managing this before they're a fact, I cannot say enough that a CGM, a continuous glucose monitoring system, really is worth its weight (well, really is worth its value) in gold, because they're quite expensive. They're small, but expensive things. Anyway, they are worth absolute gold so that you can react before there's a high or there's a low blood sugar.
CGM's are of course not exact. I don't know of any CGM system that is absolutely exact. Especially when my goal range is so small, it is very, very annoying that it is more most often 1-3 mmol/l (18-60 mg/dl) off. It's not really exact, but it is invaluable to see the trends! Where is your blood sugar trending? If your blood sugar is steady and starts to trend downwards, then you can already treat so that you need a lot less and the the hypo doesn't become a fact. Or, if you see that you're trending upwards, you can play with either temporary basal if you are in a pump, or wait it out and see what happens ,or correct with insulin. For the trends, and the CGM is fantastic and I could not recommend any more!
Timing
Reacting in time actually also helps the Standard Deviation of your blood sugar, as well as your Time In Range, which is what reacting in time will help. This will also help your HbA1c. That little trifecta is a fantastic measurement of health for diabetes. And that also is helped by reacting in time so that you don't go high and don't go low, but you can react before it is a thing.
Doing it this way, reacting before a high becomes a high or low becomes a low, makes them very rare. It actually makes them more rare than then it would be, if I, for example, added a ton of sugar, or the recommended amount of carbs for example. This is true for me, and I'm not going to talk about anyone else. But for me if I added that, I would have many more highs and I would have many more lows, because I would have to fight the carbs as well as my body with the stress, work, illnesses, and all of the other 45 things that always influence our blood sugar.
This is my Dexcom G6 24 hour curve from 20th February, and I've marked where I used my method and reacted before a high was a high and a low was a low: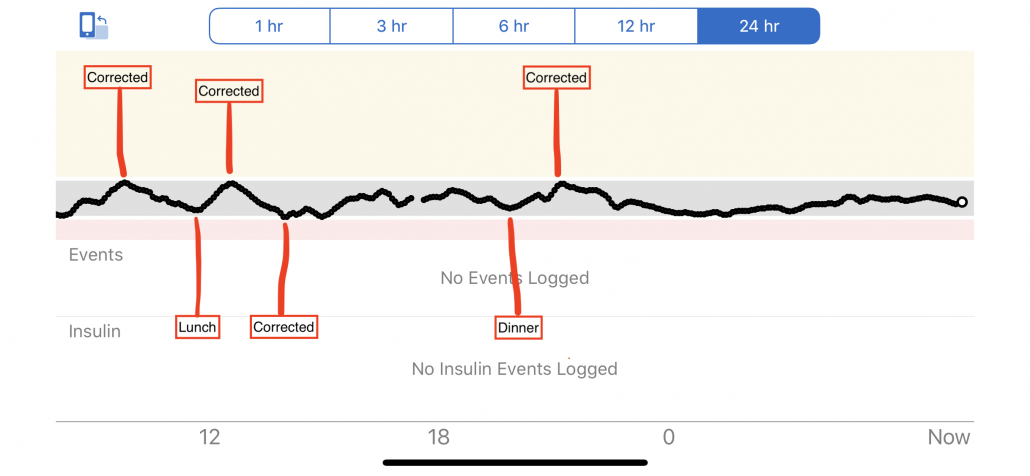 I want to hear from you:
Do you have highs and lows often and that you need to react to? Or are they rather rare for you? Let me know in a comment. I'd be happy to chat with you there.
Ps! Join me live next time, Thursday's at 6pm CET on my Facebook or Instagram for another episode of Type 1 Thursday!
https://hannaboethius.com/wp-content/uploads/2019/09/HDE-T1T.png
1080
1080
Hanna Boëthius
/wp-content/uploads/2016/04/HannaDiabetesExpertLogo@2x.png
Hanna Boëthius
2020-02-20 21:00:54
2020-02-21 11:36:10
High or low blood sugars?