Do you ever keep a food log? 🤔 As you may know, if you've seen it on my Instagram I've been doing an experiment on myself with exactly that this week.
Having had to do so many, many times since my T1D diagnosis 35 years ago (including during my nutrition training…), the result is that I absolutely can't stand it. It's fiddly, too many numbers and honestly, I don't even care about them (anymore).

Despite this, I decided to check that I'm eating enough, if I eat consistently and how/if my blood sugar and insulin requirements would change with changes in kcal (etc) intake. Normally, I care as little about kcal as I do about ketones, i.e. not at all. Counting calories doesn't work, food is nutrition, which is information that the body uses.
BUT – I do believe in eating when I'm hungry/my body needs fuel, which ends up being two meals a day for me. I also believe in eating real foods from nature and minimally processed. And I believe natural fat is good for us (yes, also saturated fat). Throughout this week, I found a few patterns:

🌟 I ate somewhere between 1100-2000 kcal/day. My basal metabolic rate is around 1300 kcal. I had a few comments that that would be too little as an intake, but if you see me I'm not exactly skin and bones. I'm also a big believer in nutrition density, and I think my kcal contain more nutrition.

🌟 I seem to intuitively vary the amount of kcal according to what my body needs and tells me. LISTEN 👏 TO 👏 YOUR 👏 BODY! It's natural that the level of hunger varies, and as long as I'm happy, full, satisfied and well nourished, I trust my body to eat what I/she needs. For example, I seem to be eating slightly less on my more active days. And I'm ok with that.

🌟 I bolus for my meals (this I already knew, of course). As bolus strategies are very individual, I didn't see the point in announcing doses. Throughout this experiment, I've used a total daily dose of 17-21 units/day, with a 85% basal, 15% bolus split, just like I usually do. My blood sugars have been fantastic, too!
How do you feel about logging food? A fun experiment or personal torture? 🤔 Discuss!
As a reminder, to yourself or someone you know needs to hear/see it, this is my main point: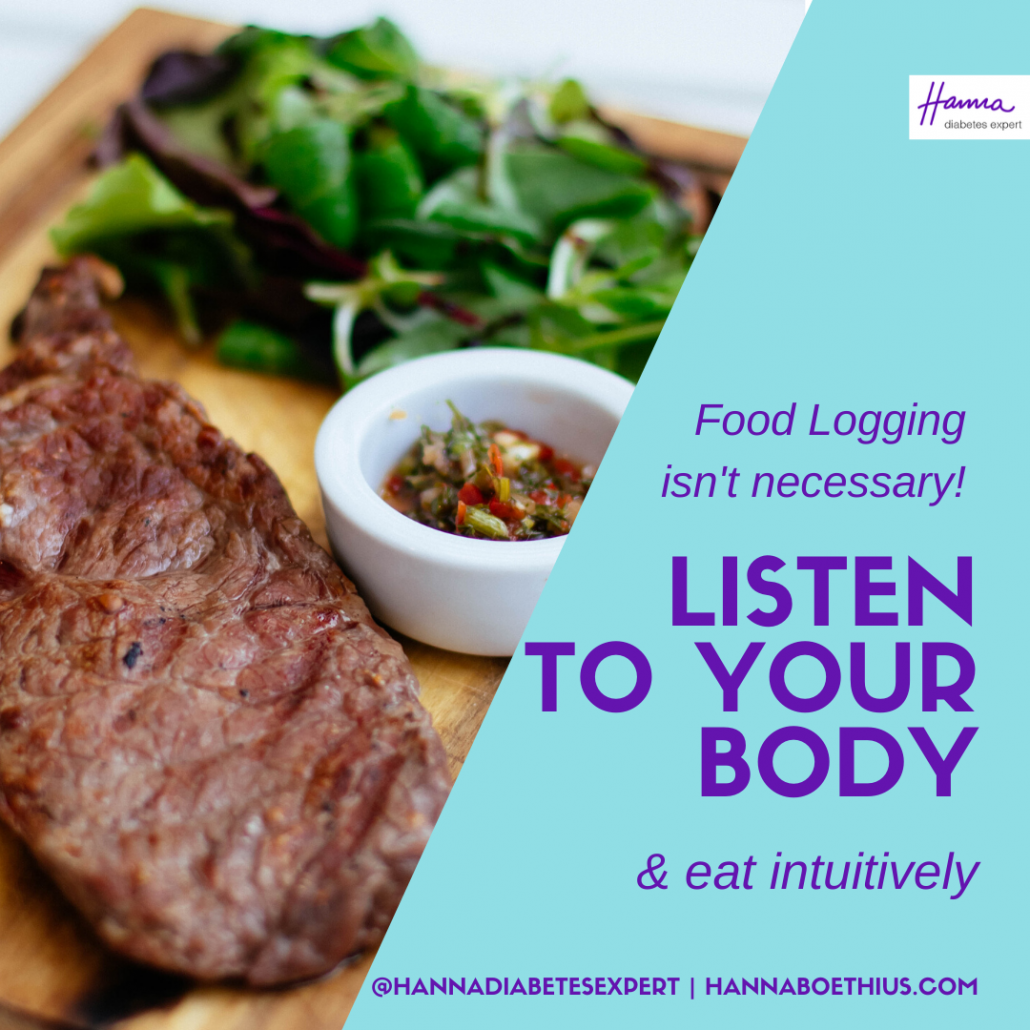 Transcription
Would you prefer to read more about my food log experiment? Here's a written version:
My Food Log Experiment
I have done something different this week. And I'm excited to tell you about it. I will tell you what I did, how I did it (well, that's pretty straightforward)! But I will also reveal all the patterns that I found doing this little experiment.
As you may have seen, I have been logging my food, again for the umpteenth time in the history of my diabetes career, which has become quite long by this point, despite me only being 25 and I cannot see how that works?! 😉 But as you may have seen on Instagram, I have been logging my food again. I want to know from you, while I keep yapping on here, how about you tell me in a comment somewhere whether you are pro or contra logging food? I am very much against logging food – I really frickin loathe it, like I hate logging food. I hate it so much and this comes from my diagnosis having to do it well, I didn't have to do it my but my parents had to do it for my diagnosis about 35 years ago this year. And also I've had to do it so many times since and especially when I've been struggling with diabetes, and it was really shit everywhere. And I yes, also of course, when I became a nutrition professional, I had to log a lot have food and I really, really don't like it. So that's, you know, my bias.
Despite this, I decided to do it now anyway, because I do think it's good to sometimes check where I'm at in terms of how much I'm eating and all this stuff. I have to be honest and say that I really don't care about calories, I really don't care about macros, I really don't care about the percentages here and energy percentages there. I don't care about ketones at all, unless I'm sick, and ruling it out as a cause. I just focus on minimising the carbs because that's what works for me. I know you're a lot of people out there where this doesn't work for or you don't agree with it. But let's just assume that we can be individual in our care and that different things fit different people. So yes, I really think it is a good idea sometimes to do check what it is that I'm eating. And you can do this with different providers such as My Fitness Pal or Cronometer.
Calories?
My basal metabolic rate, as in what my body burns, when I do nothing when I sit and breathe, basically, is about 1300 calories. You can find out this in many ways, you can use manual things, or you can use online calculators or I also have my wearables calculate for me as well, and they're always around 1300 calories. So that's, you know, what I'm working with here.
In this week's experiment, it has revealed itself that I eat something between 1100 and 2000 calories a day. To be honest, I don't even believe in calorie counting. So I don't even know why I'm keeping track. But I thought it could be interesting. I don't see that calorie counting works, and especially not the way it has been made to seem to work. I much more believe in that nutrition is information for the body that the body can use to function properly. And I also strongly believe that our bodies are wonderful machines who can regulate this! If you dare to listen to your body, and this is my main message today; if you dare to listen to your body, it will tell you if you need more calories, less calories, more energy and in which form less energy in which not form.
I did get a few comments, not just one, about why am I eating so little calories? Again, for me, this is not really a problem because I don't really pay attention to it, I pay much more attention to whether I'm full, whether I'm happy, whether I'm satisfied, whether I'm in a good mood, all of these things. And of course, my yearly checkup, I check if I have any deficiencies, but so far, it hasn't been that way. So why so low calories? I really believe that I do eat food with very dense nutrition. So there's a lot of nutrition per calorie, per gram of carb, per gram of fat and protein. There's a lot of nutrition in the calories and the macros that I do eat. That's why, if I'm not hungrier than 1100 calories one day, I'm not going to force feed myself just to get up to an arbitrary number for me. I am well nourished, as you can see, I'm not just skin and bones. There's ample things to take off from here, so I'm not malnourished either. I eat however much I want, I don't have any limits for myself, I eat however much I want until I'm full, happy, satisfied. And I really believe in that.
Intuitive eating?
This experiment showed me that I intuitively vary calories according to my needs. It is something very natural for hunger to vary, and for calories to vary from day to day, depending on what you've done, how you feel, all of these things that have an impact. I came to the conclusion that I am quite good at intuitive eating actually, where I really listen to my body in terms of what it wants, in terms of how much it wants, in terms of what nutrition it needs on that day in that moment. Really, my philosophy is really as easy as, Eat when you're hungry. Don't eat when you're not hungry. This leads me to mostly eat two meals a day, sometimes I have a snack between the meals, sometimes I don't. It really depends on what my body is calling out for. An important point, because this is a completely different ballgame if this is your problem, but I eat without emotion. I think that food is joyous and it's good and I enjoy food and it has to taste good. But I don't eat because I'm sad. I don't eat because I'm happy. I don't eat because you know, there's an underlying emotion. So if this is your ballgame, then there are tonnes of experts out there who can help you with this, but it's a completely different thing to handle.
I also noticed that I tend to eat less when I have a more active day which sounds completely weird. Three days a week, I do bodyweight exercises for half an hour, I go out walking at least half an hour, and I do at least half an hour of yoga. So that's 1,5 hours on those three days that I move my body. I do it because it feels good and not because I feel I have to do it. And again, I listen to my body, and it wants to move! On the other four days of the week, I do walking or yoga or both. It all depends on how I feel during the day. But yes, on the days I move more I eat slightly less calories, which was weird to me. But again, I don't worry about it. I know my body can take care of itself. It's fine.
Bolus for minimal carbs?
I also got a lot of questions if I bolus for the meals that I eat, considering there's very little carbs in the food that I eat. Do I even bows for it? And yes, I do bolus for my food (which is what I said in my Instagram Stories very many times, "yes a bonus for this"). It is very important, of course, to keep blood sugar stable, healthy and at normal levels. This was a great success in the in that respect as well this week, my blood sugar's have been great! I'm very grateful for that. I also corrected when I had to, and used insulin as normal.
Because bolus strategy for every person with diabetes is very, very individual, I didn't see the point of actually disclosing any numbers or how many units I was taking or anything like that. It's turns out to be a pretty arbitrary number, much like calories. How much bolus I take doesn't really matter because it's so individual. A lot of it comes down to what your routine is, what your eating habits are like, what do you usually eat? Do you eat a lot of carbs usually? Or do you eat less carbs? Usually, your bolus strategy will depend on these factors. It also depends on what kind of a role of your basal insulin, the underlying insulin, plays, along with so many other things, like what your fat and protein factors are and how much you need to bolus for protein, for example. There are rules of thumb, absolutely, for all of this, but for you as an individual, you will need to play a little trial and error to see what works for you in certain circumstances.
But as a little factoid, I used anything between 15 and 21 total units per day in my insulin pump. That means it's both basal and bolus insulin. It works out to a ratio of 85% basal and 15% bolus. It doesn't really tell you much, but it just shows that I do take insulin and I do take adequate amounts of insulin and I won't go into DKA (as that is the danger of taking too little insulin, DKA is always due to at least the relative lack of insulin in your body).
Food Log Conclusion
So what is my conclusion of my (now) four day experiment, I cannot wait to finish it tomorrow. But my four day experiment so far is that I still loathe, I still hate logging food. It was a great reminder for me., It really takes away that joy for food, the joy of eating the sheer pleasure of eating and puts it too much into my head. There are too many thoughts, there's too much planning. There's too much of, "oh yeah, how many blah, blah blah was this and how many walnuts did I eat there?" and "how much cream was that?" It takes the complete joy out of it for me. And it also takes me out of trusting my body, listening to my body-feeling, that I find is so, so important, especially when it comes to eating. This was the quick-ish conclusion of my four day experiment of logging food!
Before I go, I wanted to ask you, what does food logging mean to you? Have you used one of these terrible chart-things that I used to get from my dietitian (when I still saw one)? Is it a fun experiment to check in on yourself every once in a while, or are you more Team Me and it's a bit of a personal torture? Please let me know in a comment!
The only purpose of this website is to educate and to inform. It is no substitute for professional care by a doctor or other qualified medical professional. This website is provided on the understanding that it does not constitute medical or other professional advice or services. Instead, we encourage you to discuss your options with a health care provider who specializes in treating Type 1 Diabetes.
https://hannaboethius.com/wp-content/uploads/2019/09/HDE-T1T.png
1080
1080
Hanna Boëthius
/wp-content/uploads/2016/04/HannaDiabetesExpertLogo@2x.png
Hanna Boëthius
2020-04-23 21:00:00
2020-04-25 09:32:44
My Food Log Experiment (Patterns revealed!)