Hola, Sunshine! ☀️ Today on Type 1 Thursday, we're talking about vitamin D!
Where do we get it from, how can we improve our levels (if needed) and what is it good for?
Did you know vitamin D is THIS important? How do you make sure you have enough vitamin D? Let's chat in the comments!
Ps. Why don't you share this video with someone who needs to learn more about vitamin D?
I made this handy graphic about the sources of vitamin D to go with the video. Got any questions? Let me know in the comments!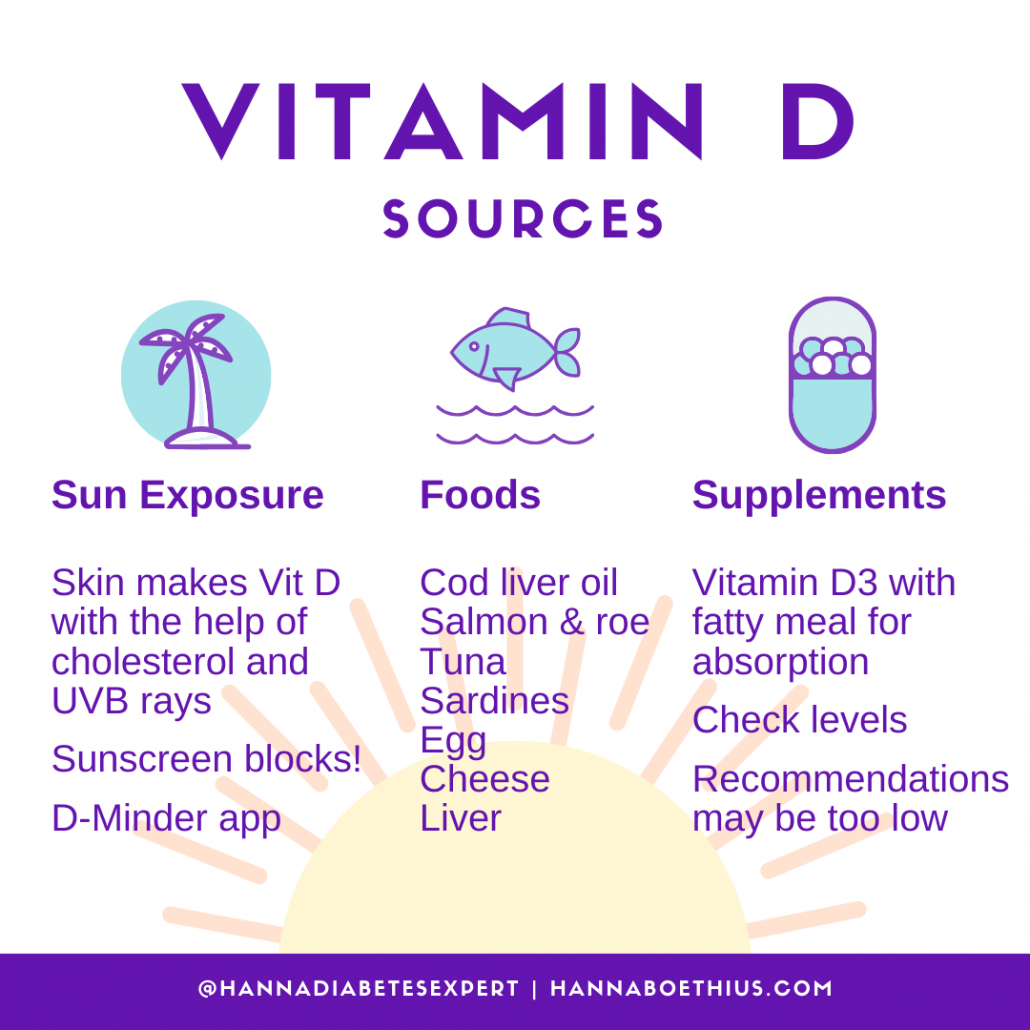 Transcription
If you prefer to read about vitamin D, here is a text version of the information :
Welcome to this week's Type 1 Thursday and today's topic, vitamin D. I asked you on my Instagram Stories again what you wanted me to talk about and vitamin D was the clear answer.  (Well, actually it was a yes or no question, so anyway, it was Yes on that! So that's what we're talking about today.)
Vitamin D is claimed to help anything and everything in your body, like your immune system to Alzheimer's to MS to cancer and blood sugar. There have been studies showing either way on all of these so it's quite an important thing for our body. 
Did you actually know that vitamin D is something like a pro hormone, so like a precursor of a hormone and not as much of a vitamin as we are made to believe? It's so important in our body, and its role in many, many functions is astonishing. Our bodies can make it on its own, which I will go through in a little bit, but it basically uses cholesterol and sunlight, and we can also get it from food sources if the sunlight is not enough, which it can be, for example, in the Northern Hemisphere during the winter half of the year. 
Benefits of Vitamin D
What are the benefits of vitamin D? It can help regulate and control the body's ability to absorb phosphorus and calcium. It may also help the body regulate the insulin production in the pancreas. Vitamin D levels in a person should ideally be around 20 to 56 ng/l and with anything clinically as low as 20 ng/l is considered deficient. It is now of course known that we need a sufficient amount of vitamin D in our system, in our body and something around 60 to 80 mark even 100 ng/l can help, for example, blood glucose levels to keep them under control, which is absolutely vital for people with diabetes. 
What else is it good for then? (If you know, how about you send me a little comment so I know I'm not completely alone out there on the interwebs!) In the meantime, vitamin D does support our immune system, our brain and our nervous system which can be very good and especially at this point of time. It also is very good for lung function and our cardiovascular system, and it can also influence the gene expression of cancer tumours. It's not quite clear how it really works there, but it seems to be able to have an influence on cancer metabolism. 
Vitamin D also helps you have better skin, it helps you have healthier muscles. Also, more studies are finding a link between Type 1 Diabetes and vitamin D levels because of the auto immunity aspect, as well. Something I learned very recently is that there is a presence of vitamin D receptors on insulin secreting pancreatic beta cells. And to this, multiple studies have shown that vitamin D supplementation as a young child can seem to be able to prevent a Type 1 diagnosis later in life. It's quite an interesting topic and if you're interested, I suggest that you Google it because it is a very interesting field of research! (And of course I am invested myself, so please go find all the good stuff and report back.) It also can also help with depression in some cases, as well. 
How to get Vitamin D
So how do we get vitamin D at all? The obvious one is (I tried to depict it in my clothing today); sunshine! It is the one very natural and fantastic way of getting vitamin D and this is because 80 to 90% of the body's vitamin D is made by the skin with the help of cholesterol and the UVB rays of the sun.  This is when vitamin D3 gets transferred to the kidneys and the liver and it's converted to Calcitriol, which is an active form of vitamin D. It's said that 20-30 minutes daily sun exposure is recommended and this is clearly more difficult when we are not in the summer time of the year. If you wear high enough sunscreen, it will block your vitamin D production in the skin, which is not a great thing if you are out in the sunlight trying to get vitamin D!
This is actually why it's best to do short periods of time in the sun, however be very careful not to burn yourself, which is the key to all sun exposure. Make sure that you go without sunscreen so that you get the full benefits carefully. There are apps like for example, my favourite summer app in the universe, which is the D-minder app. I can't tag them as they are not on social media and I do not work with them, but I think the app is fantastic! It takes into account your location, your altitude, all of these things to see what the UV index is for that day in that weather, you can put in how much clothes you're wearing, how overcast it is, and your skin type and it calculates how long you can safely be out in the sun to get vitamin D and sun exposure. (It also helps you get a great tan, if that's what you're looking for!)
What if you can't be in the sun?
If being in the sun is not an option, what are your other options? Well, you have two other ways of getting vitamin D. One is from food sources and this is of course, I always recommend whole foods sources. Personally, I'm not really sure about the "fortified" foods that are out there and in my opinion, the best forms of exogenous vitamin D is D3 and it comes from animal foods. That's where it's most widely available and most grains and other non animal foods, they really need to be fortified with this extra vitamin D and I feel like that's a little too much chemistry for me so I'll leave that alone. That's up to each and every one of you to decide but I would recommend things like cod liver oil, salmon is a great vitamin D source and  salmon roe and it's delicious. And how about some tuna or sardines, eggs are great, cheese and liver. (I'm having liver pate tonight and I cannot wait also because of the vitamin D, but mainly because it's yummy.)
If you can't get in the sun, you can't eat any of these things, you can supplement vitamin D, so you are not left alone! Make sure that you get the vitamin D3 and not the D2, because the D2 is not bioavailable, so it doesn't get absorbed as well in your body and D3 is already one step closer to being used, so make sure it's D3. And make sure you take the supplements with a fatty meal for the best absorption, as it's a fat-soluble vitamin. Otherwise, what's the point eating them if they don't get absorbed, right? H
How much does one supplement? That is an everlasting question and I cannot even tell you how many people have asked me this, but and the fastest and easiest and safest way to check is actually with a blood test so that you can see where your level is now, and then you can try supplementing for a while, before taking a new blood test and see if you need to increase or decrease. That's the safest way. 
Generally, living in the Northern Hemisphere, it's difficult to get enough during the winter and especially if you also have some sort of autoimmune thing going on, like I do, and many of us do here. Remember that the official recommendations, as in what you see on the supplement package, usually tends to err on the low side. Having an excess of vitamin D is very difficult to achieve. You have to take many, many supplements for very long to get an excess which would manifest in a too low calcium in your body. 
Did you know that vitamin D is this important and if you did, tell me how you make sure that you get enough vitamin D. And if you didn't, how are you planning to get enough vitamin D into your system?
The only purpose of this video is to educate and to inform. It is no substitute for professional care by a doctor or other qualified medical professional. This video is provided on the understanding that it does not constitute medical or other professional advice or services. Instead, we encourage you to discuss your options with a health care provider who specializes in treating Type 1 Diabetes.
/wp-content/uploads/2016/04/HannaDiabetesExpertLogo@2x.png
0
0
Hanna Boëthius
/wp-content/uploads/2016/04/HannaDiabetesExpertLogo@2x.png
Hanna Boëthius
2020-04-16 21:00:00
2020-04-20 09:53:59
All About Vitamin D